I haven't been able to get a thing done around here lately because I have had a fussy and clingy baby. She is now sleeping peacefully in her swing so instead of cleaning, here I am typing away to you...
I'm going to show you how that I am not all talk, I actually did some of the things I talked about in my last post. First of all, I already use cloth diapers, and I love them!! In fact I have been stalking my mailman for the past few weeks waiting on a pink diaper to come in the mail. I got an email yesterday that the lady lost it at her house and she was just sending it out so I'm giving the mailbox a break for a couple of days, then back to stalking.
Here is my tired little sweet pea at one of her first doctor appointments. She was a week or two old here. It is amazing how tiny she looks but she was a chunky 9lb baby. She is wearing a
Nubunz
diaper.
Next, I washed my hair with "no poo." I just used one tablespoon of baking soda and added just enough water to make it into a paste. I rubbed it into my scalp, which honestly took longer than I expected, but it felt nice. I made sure to rinse well, and would have used the apple cider vinegar, but I don't have any so maybe I'll try that later. I read somewhere not to use the vinegar with every wash so I thought I was fine, but I felt like my hair was missing something afterwards... or maybe I just didn't wash it thoroughly enough. In the end my hair was soft and I had less dandruff, but it felt dirty sooner than with regular shampoo so I will have to try this again because I think it was something wrong with the user, not the product.
There you go.. a nice look at my ear. Really though, here is my hair after the "no poo" treatment. It looks a little less frizzy than normal. It was soft and less dandruff.
Lastly, I broke out the sewing machine and made myself some unpaper towels. My husband agreed that if they were as soft as Viva towels then he would consider using them. I chose a brown fabric that felt a bit like suede to make sure they were extra soft. I almost used minky, but it was a bit (well, almost 3 times) more expensive I have made maybe 6 so far and I have some scrap fabric from old diaper projects that I will use to make more. I can't wait to see if he will use them, or even if I will use them. We will see.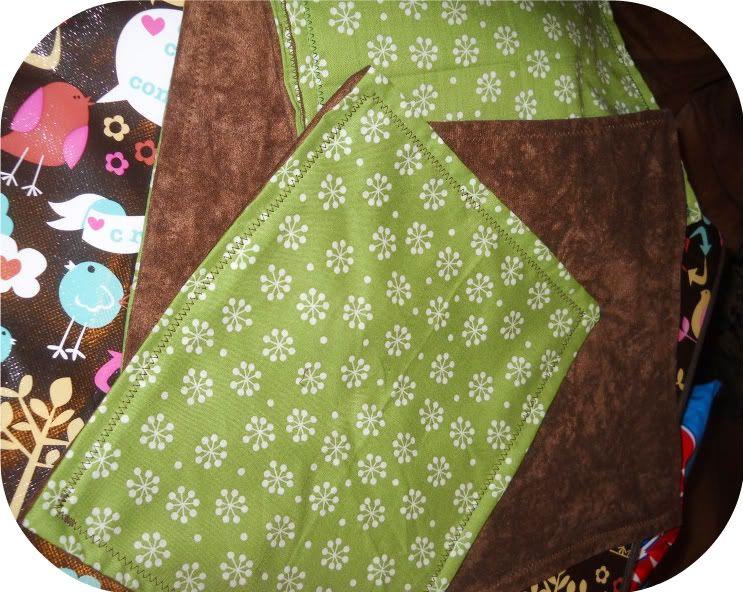 Here they are.. my unpaper towels. Very soft and hopefully will save some money. Also note the cute bag they are sitting on. They were offered at JoAnn's for about $2 and they are re-usable shopping bags. It is really big and really cute! More than enough space to hold any fabric, yard or materials that I will buy at JoAnn's! The bag alone made me want to go back and buy more just so I could fill it up!!