I'm going to be honest.. I love my hometown. The same town that almost every other person my age is dying to get out of.. I love it. The only flaw: I feel that the people are killing it. There is/was so much history and its slowing getting torn down piece by piece. I've got some old pictures from the local archives and some newer ones that I took so I'll let you guy see for yourself.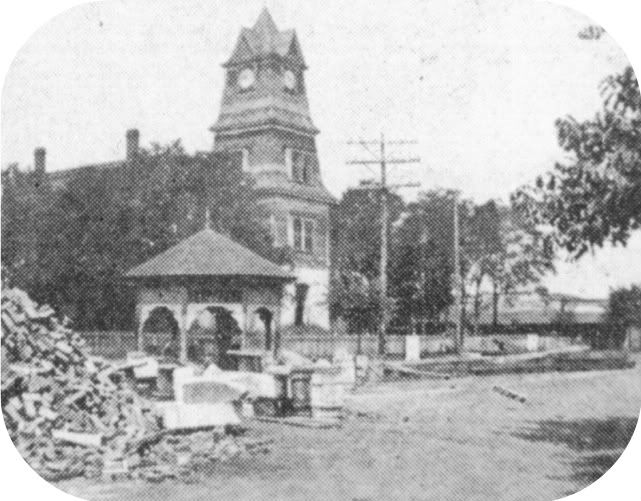 This was the old courthouse from the 1800s. It was gone way before my time. If I remember correctly it burned to the ground. I'll let you see the new one, but I'll start by showing the old picture of the "new" courthouse.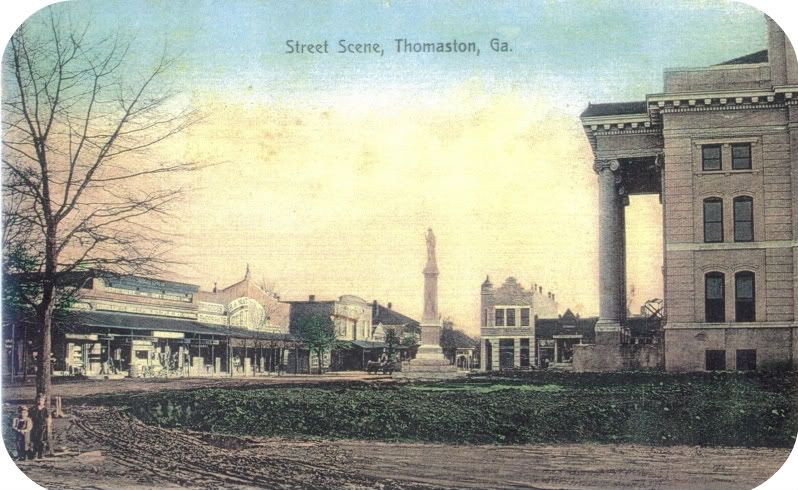 This is the oldest picture that I personally have of the courthouse. There are dirt streets and something that I've never noticed: three kids standing by the tree. This is so cool to me because those kids are probably the same age as my great-grandma. In fact, there is a picture of my great-grandfather that was made in the 20s and the quality of the picture looks a lot like this, the way it looks kind of like a painting.
This is a bit newer. I believe it was from the 40s. The people at the archives had a discussion with me about it and we were trying to figure it out by the cars. I can't remember what the outcome of that discussion was, so I'm just guessing that it was the 40s.
This one is from the 60s around Christmas. I'm not sure why they stopped putting those lights up. I think they look really neat. Actually, a few years ago they tried to bring them back, but they just didn't look the same. Every time my grandma thinks about it she tells me how great it was back then and how horrible it is now. She is so happy they didn't do it this past Christmas. Honestly though, I liked it.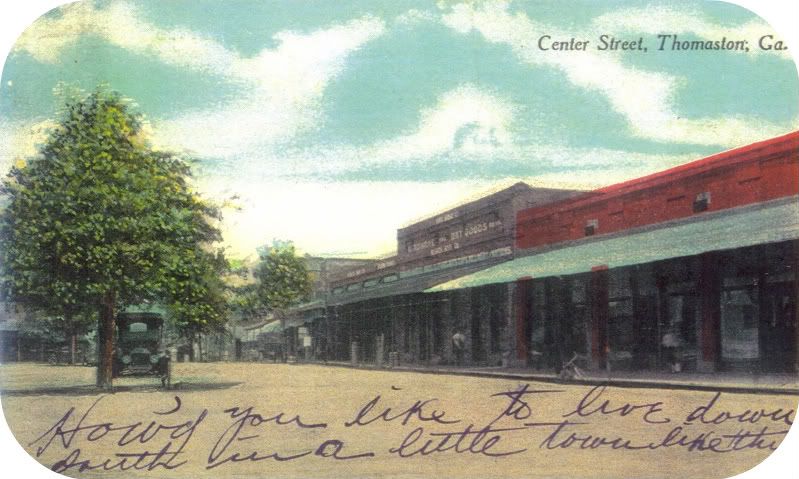 This is across the street from the courthouse. All of those buildings are pretty much empty now. I really like how someone wrote on this post card "How'd you like to live down south in a little town like this." Its nice to think that at one point that this town was really considered a place where someone would really like to live.
Here is another shot from downtown across from the courthouse. My question is what jerk decided to change it from a dime store to a dollar store? I'd much rather it be a dime! In the background you can see Hotel Upson, and just in front of it you can hardly see the cafe that I showed you in my last post.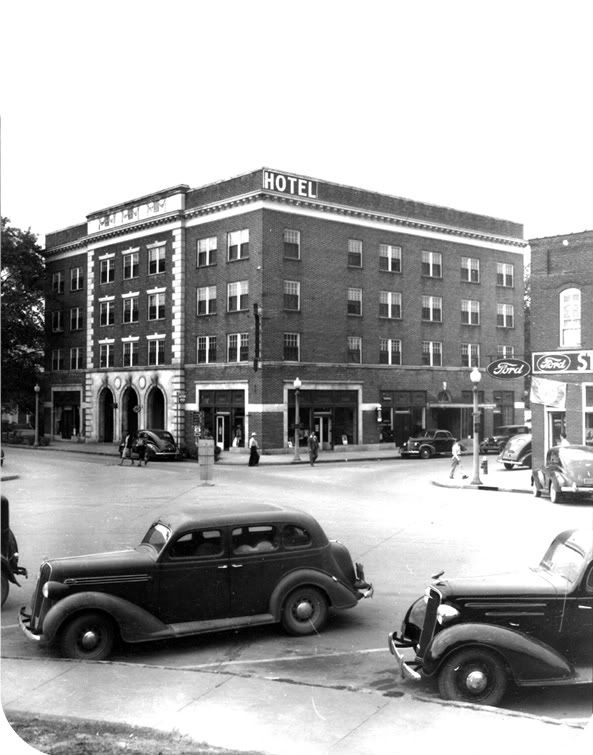 Hotel Upson in its glory days. I wrote a story about it once and did some research in the old papers about its grand opening. It was a big event and locals came to a big ball and had a big dinner. Its just something that doesn't happen in Thomaston anymore. I wish I could have been around back then.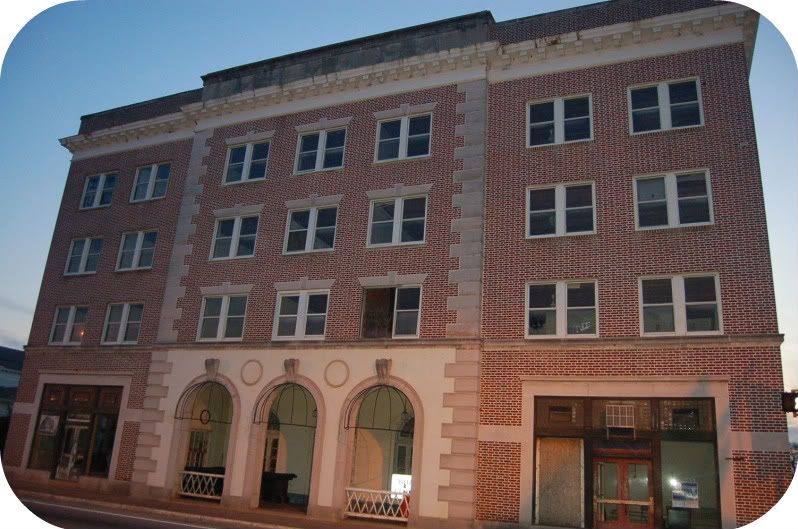 This is the last picture I took of Hotel Upson. After this picture everything was boarded up, windows were broken and eventually it was torn down. It really broke my heart to see it because from the outside it seems like the building has so much potential. From what I hear it was a real danger to step foot inside, especially to leave the first floor. Now the lot where the hotel stood is empty. I believe it belongs to the church nextdoor. What a shame it will be if it turns into a parking lot.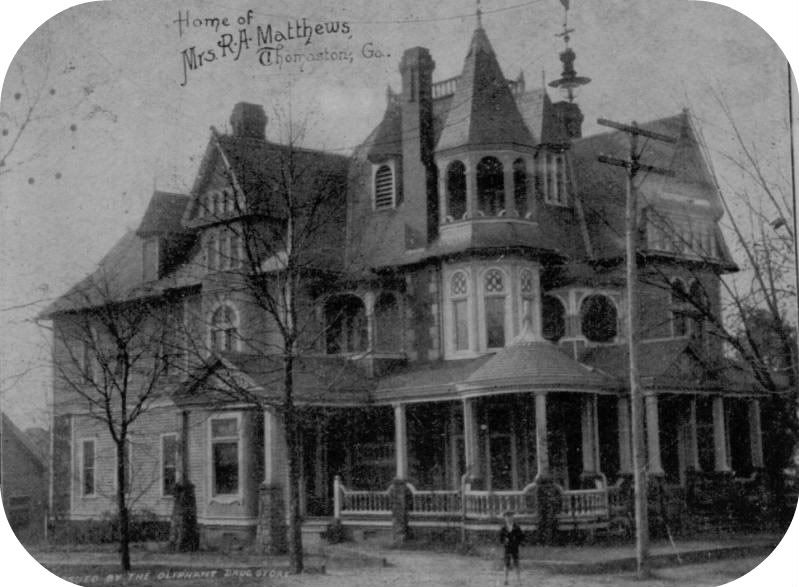 This is my dream house. Isn't it just amazing! All of the different porches and gables (I hope I used that word correctly) are beautiful and the windows are just wonderful. This type of architecture just doesn't exist anymore. This house was a block or two from the hotel, and in its place there is now a gas station turned car lot.
Now for the finale.. The more current pictures of the courthouse. One of the great pieces of history that still stands.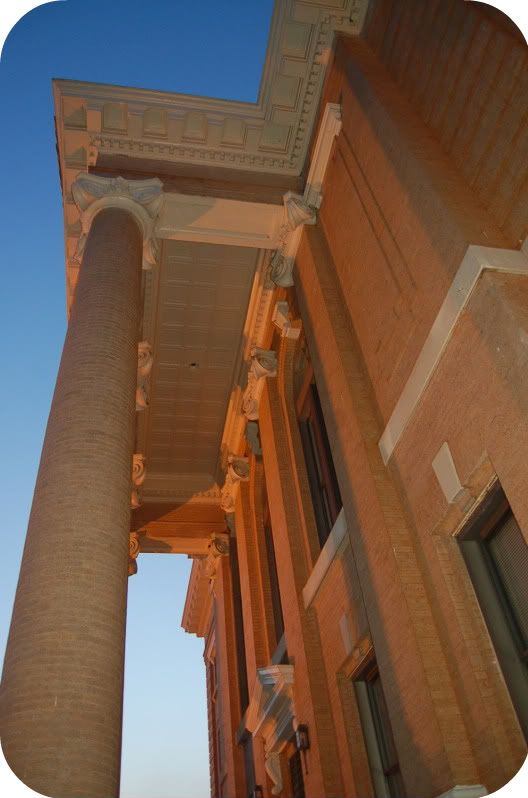 Thanks for reading. I hope someone else finds these old pictures as beautiful as I do.